We are authorized source of genuine parts and complete service support for your Perkins engines.



We provide one-stop services for your engine.
º Free phone consultation for general maintenance and first hand troubleshooting
º Genuine spare parts
º Component Exchange (subject to availability)
º Periodic maintenance for engine and whole generator
º On site inspection, troubleshooting and repair
º Minor or top overhaul
º Major overhaul
º Maintenance Contract
º Full Service Contract

Please dial (02) 868-6688, (063) 227-2277 for enquiry or (088) 880-4400 for English speaker.
For Emergency after office hours, please call (095) 565-2000.

My Engine App
If you own Perkins engine, you are invited to download "My Engine App" on your phone to have access to your engine information. It is free. You can open operator manual and find the right parts for consumable on-line, or even get notified of the next service. Check it out now.
Click for more information on My Engine App.

Start from free service consultation over the phone for engine maintenance. Call us to get the correct procedures and genuine parts to maintain your engines in top condition. Alternatively, you can trust our service team to maintain your engine with genuine parts and trained technicians. We provide service contract for every kinds of engine. We continue to update and train our technicians for the most recent engine models and change in service technics.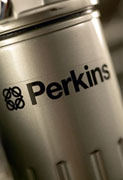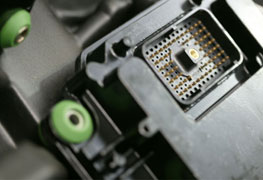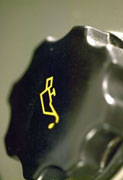 Our service team is trained by Perkins training school to meet Perkins standard. For us, training is continuous process. Each year we invest in time and resources in various training programs. The new engine technology for cleaner emission is required by stringent emission regulation in Europe and U.S. to combat the global warming. More and more complicated electronically controlled injection system is required to reach certain emission. Training is vital to catch up with the latest engine technology change and newly released engine models.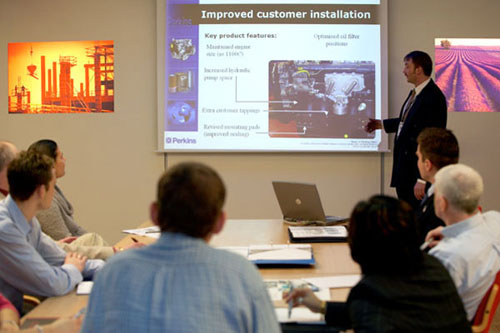 We are fully equipped with Perkins special tools to meet the requirements of all engine series. This includes the most advanced electronic service tools to diagnose and repair the electronically controlled engines.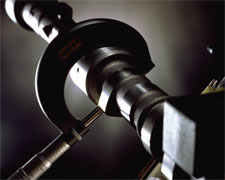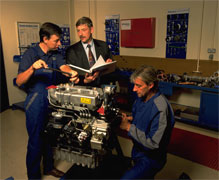 Call us to provide the correct service for your Perkins engine because we are the most suitable company in Thailand to provide services for your Perkins engine.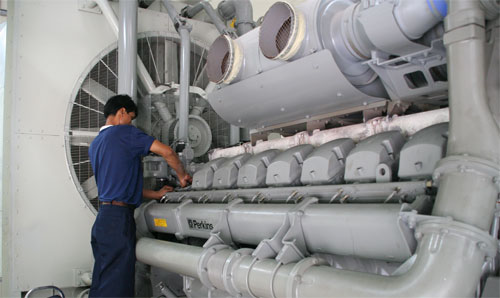 Picture: Our trained mechanic on site in Thailand with 4016TAG2A
16-cylinder Perkins powered 2200 kVA generator.
DB in-house training is the key to meet the manufacturer's standard.

Our mechanics in Perkins 3000 Series
Training course with Perkins training school

Our technicians in
Advanced electronically controlled engine
training course with Perkins training school
For updated information on Perkins Engine ranges and more details on models,
Click Link to www.Perkins.com or Contact our company.